 Houston, TX, Nov. 14, 2017 – Texas Orthopedic Hospital has been recognized as the recipient of the Healthgrades Joint Replacement Excellence Award and named among the top 10 percent in the nation for joint replacement for the fourth year in a row according to this year's evaluation from Healthgrades, the leading online resource for comprehensive information about physicians and hospitals. Every year, Healthgrades evaluates hospital performance at nearly 4,500 hospitals nationwide for 34 of the most common inpatient procedures and conditions.*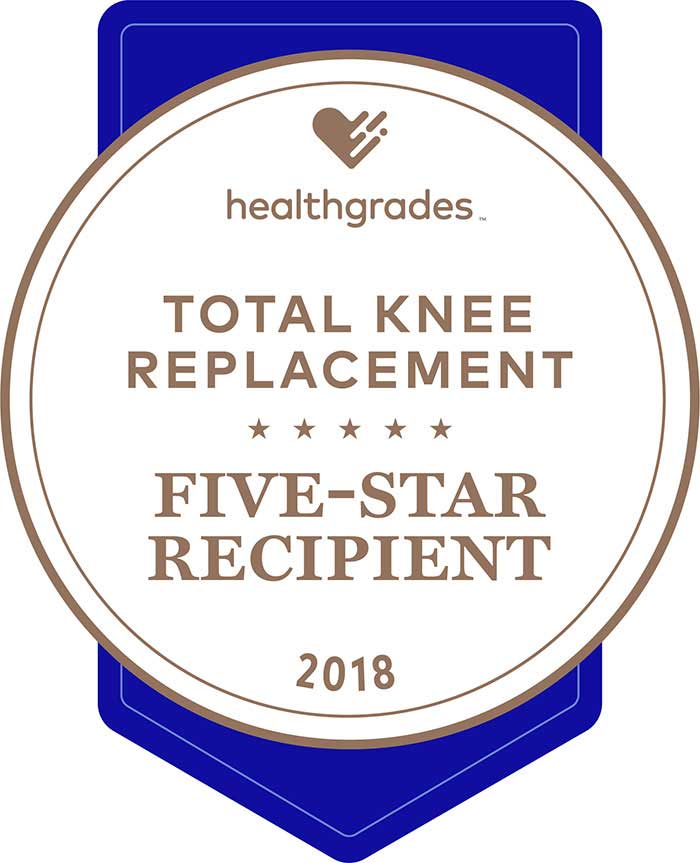 These achievements are part of findings released by Healthgrades and are featured in their 2018 Report to the Nation. The new report demonstrates how clinical performance continues to differ dramatically between hospitals regionally and nationally.
"Texas Orthopedic Hospital and our physicians affiliated with Fondren Orthopedic Group are committed to providing our patients with the highest quality of care in orthopedic medicine," said Eric Becker, chief executive officer at Texas Orthopedic Hospital. "Our internationally renowned physicians and our highly experienced hospital staff are the reasons why Texas Orthopedic Hospital is recognized nationally each year."
Texas Orthopedic Hospital is also a Five-Star recipient for total knee replacement for 11 years in a row, a five-star recipient for total hip replacement for 11 years in row. Additionally, this year Texas Orthopedic Hospital is a 2018 five-star recipient for spinal fusion surgery.
"Consumers place high value on information about hospital quality and use it to evaluate their choices for care," said Brad Bowman, MD, Chief Medical Officer, Healthgrades. "Hospitals that have achieved recognition for their quality outcomes prove their commitment to their patients and their community at large."
*For its analysis, Healthgrades evaluated approximately 45 million Medicare inpatient records for nearly 4,500 short-term acute care hospitals nationwide to assess hospital performance in 32 common conditions and procedures, and evaluate outcomes in appendectomy and bariatric surgery using all-payer data provided by 17 states. Healthgrades recognizes a hospital's quality achievements for cohort-specific performance, specialty area performance, and overall clinical quality. Individual procedure or condition cohorts are designated as 5-star (statistically significantly better than expected), 3-star (not statistically different from expected) and 1-star (statistically significantly worse than expected) categories. The complete Healthgrades 2018 Report to the Nation and detailed study methodology, can be found at Healthgrades.
Texas Orthopedic Hospital
Texas Orthopedic Hospital is a global leader in orthopedic care and houses the internationally recognized physicians of Fondren Orthopedic Group. Focusing on each patient's individual and unique need while maintaining awareness and recognition of cultural diversity, Texas Orthopedic Hospital physicians, employees, and volunteers, are committed to changing and improving the lives of patients by providing exceptional orthopedic care through innovative technology, ongoing outcomes research, and quality, cost effective service. What makes this hospital exclusive is its state-of-the-art surgical facilities and trusted physicians who are one of the largest sub-specialized orthopedic groups in the nation. Texas Orthopedic Hospital provides compassionate care to every patient with the utmost integrity and confidentiality. For more information, visit the Texas Orthopedic Hospital website at Texas Orthopedic.
About HCA Healthcare Gulf Coast Division
HCA Healthcare Gulf Coast Division is a comprehensive network of hospitals, outpatient surgery centers, emergency centers and diagnostic imaging facilities in greater Houston, Corpus Christi and South Texas. Facilities in the Gulf Coast Division include: 17 hospitals, nine ambulatory surgical centers, 10 freestanding emergency centers, and a regional transfer center that provides one phone call access and support for patient transfers into and out of the HCA Gulf Coast Division Affiliated Hospitals as well as access to ground and air transportation within a 150- mile radius. For more information, visit HCA Gulf Coast.
**Statistics are based on Healthgrades analysis of MedPAR data for years 2014 through 2016 and represent 3-year estimates for Medicare patients only.
News Related Content