Texas Orthopedic Hospital, in partnership with the physicians of Fondren Orthopedic Group L.L.P., is led by a team of more than 150 physicians. Supporting this team is a board of trustees that includes respected physicians and community business leaders.
The board of trustees helps evaluate the hospital's delivery of health care, and assists with the development of new programs. The goal is to ensure our patients receive the most advanced, cost-effective health care, close to home.
Board of trustees
Hussein Elkousy, MD – chairman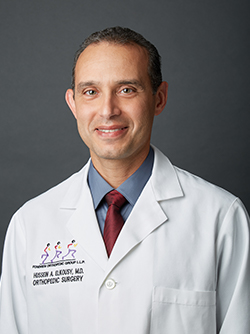 Dr. Hussein Elkousy specializes in sports medicine. His particular interests are in knee and shoulder injuries, treated both arthroscopically and with open procedures. Elkousy is certified by the American Board of Orthopaedic Surgery with a Certificate in Sports Medicine.
Dr. Elkousy grew up in the rural town of Chillicothe, Ohio. In 1991, he graduated Summa Cum Laude from Duke University with a bachelor's degree in biology, and received the Edward C. Horn Award for Excellence in Zoology.
Elkousy attended Duke University Medical School and graduated in 1995 as a member of the Alpha Omega Alpha Medical Honor Society. He was honored by his class with the Ideal Physician Award. He remained at Duke University for his Orthopaedic Residency, graduating in 2001. During that time, Elkousy was a co-recipient of the Award for Excellence in Orthopaedic Research. Following his residency, he completed a one-year Sports Medicine and Shoulder Fellowship at the University of Pittsburgh (UPMC).
Dr. Elkousy is a member of several orthopaedic societies including ASES, AOSSM, AANA, HCMS, TOA, and ISAKOS. He has over 300 journal publications, book chapters, and presentations to his name and has written and co-edited one textbook on shoulder arthroscopy. He is a reviewer for the American Journal of Sports Medicine and the Journal of Shoulder and Elbow Surgery.
Dr. Elkousy has volunteer faculty appointments with Baylor College of Medicine and UTMB, and has been the fellowship director of an ASES recognized shoulder fellowship, since 2004. He is also a former team physician for the Houston Rockets (2003-2011) and Texas Southern University (2004-2015).
David Loncarich, MD – physician member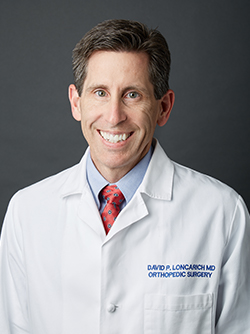 Dr. David Loncarich specializes in surgery of the foot and ankle.
A native of California, Loncarich received his bachelor's degree in physiology from the University of California. He earned his medical degree from the University of Southern California - School of Medicine.
Loncarich then joined the military and was commissioned a Lieutenant Commander in the United States Navy in 1992. While in the Navy, he completed his general surgery internship and orthopedic surgery residency. From there, Loncarich served as a staff orthopedic surgeon at Camp Lejeune, NC. Loncarich completed his fellowship training in surgery of the foot and ankle at the Foundation for Orthopaedic, Athletic, and Reconstructive Research in Houston, Texas.
Loncarich, board certified by the American Board of Orthopaedic Surgery, maintains staff privileges at Texas Orthopedic Hospital, The Methodist Hospital, St. Luke's Episcopal Hospital, and Diagnostic Center Hospital. He is also a member of several organizations, including the Alpha Omega Alpha Medical Honor Society, American Academy of Orthopaedic Surgeons, Harris County Medical Society, and the American Orthopaedic Foot & Ankle Society.
Thomas Mehlhoff, MD – physician member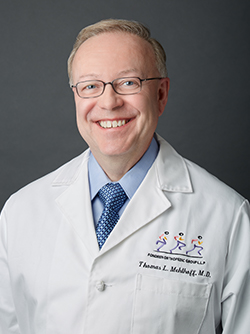 Dr. Thomas Mehlhoff specializes in hand surgery, sports medicine and orthopedic surgery of the upper-extremity, including surgery of the hand, wrist and elbow.

A native of South Dakota, Mehlhoff received his bachelor's degree in chemistry, Summa Cum Laude, from the University of South Dakota. He was first in his class at the University of South Dakota - School of Medicine, and received his medical degree, with honors, from Baylor College of Medicine.
Mehlhoff conducted post-graduate studies at Baylor College of Medicine, completing an internship in general surgery and residency in orthopedic surgery. He has also completed fellowships in hand and upper extremity surgery at Baylor College of Medicine and the Mayo Clinic. He is the recipient of the Excellence in Surgery Award, the Paul Harrington Award for Excellence in Orthopedics, and the Texas Orthopedic Association's Best Resident Paper Award. In 2004, Mehlhoff was honored by the Association of Perioperative Registered Nurses of Greater Houston with the Distinguished Surgeon Award.
Mehlhoff is certified by the American Board of Orthopaedic Surgery (1991). He also holds a Certificate of Added Qualifications in Hand Surgery from the American Board of Orthopaedic Surgery (1992).
Mehlhoff has served as team physician for the Houston Astros since 1990, specializing in diagnosis and surgery for sports-related injuries of the hand, wrist, and elbow. He serves as chairman of the Ethics Committee at Texas Orthopedic Hospital, and also sits on the Quality Improvement and Peer Review Committee.
Gary Brock, MD – physician member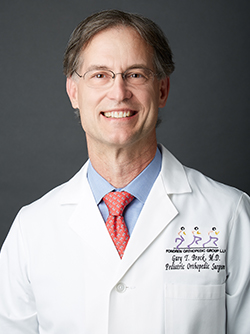 Gary T. Brock, M.D., P.A., specializes in pediatric orthopedic surgery. He has special interest and training in the treatment of pediatric spinal disorders including scoliosis and pediatric sports medicine.
Dr. Brock graduated as valedictorian of his class at Clear Creek High School and obtained his bachelor's degree in Biology with honors from Baylor University in Waco, Texas, where he was elected president of his senior class. He then received his Medical Doctorate from the University of Texas Southwestern at Dallas Medical School and was inducted into the Alpha Omega Alpha Honor Medical Society.
He completed his internship and orthopedic surgery residency at the University of Texas Health Science Center affiliated hospitals in San Antonio, Texas. Dr. Brock was awarded the Fellowship in Pediatric Orthopaedic Surgery, Children's Hospital of Philadelphia with Denis S. Drummond, M.D.
Dr. Brock is a nationally recognized advocate for research and treatment of children with spinal disorders. He is a member of the Pediatric Orthopedic Society of North America as well as the Scoliosis Research Society (SRS). He currently represents the Scoliosis Research Society and American Academy of Orthopedic Surgeons on the Board of Subspecialists with frequent visits to Congress advocating for Pediatric Orthopedics and pediatric spinal disorder issues.
Dr. Brock is board certified by the American Board of Orthopedic Surgery and recertified in 2012.
Vasilios Mathews, MD – chief of staff; chairman, medical executive committee
Dr. Vasilios Mathews specializes in joint replacement surgery, including the performance of surgery via minimally-invasive joint replacement techniques. In addition, Dr. Mathews has extensive experience with bone-sparing procedures, including partial knee replacement and hip resurfacing, as well as with the newest innovative techniques, including anterior hip replacements and the use of low-wear joint replacements. Dr. Mathews' specialization also includes revision of certain failed prior hip surgeries, failed prior knee surgery, and failed knee replacements.
Dr. Mathews has achieved peer acknowledgement for his care of patients and orthopedic skills.
Dr. Mathews' care is entirely by himself, including daily rounds and direct patient care. He performs his own surgeries on all patients.
A native of Connecticut, Dr. Mathews obtained his medical degree from Columbia University College of Physicians and Surgeons in New York. Dr. Mathews began his postgraduate training at Lenox Hill Hospital in New York where he completed his internship and his residency training in orthopedic surgery and was named Chief Orthopedic Surgery Resident. Dr. Mathews completed his fellowship training at the Mayo Clinic in Rochester, Minnesota, where he specialized in adult lower extremity reconstruction.
Dr. Mathews has many publications and presentations to his credit. He is a member of the following societies:
American Academy of Orthopaedic Surgeons
American Association of Hip and Knee Surgeons
Houston Orthopedic Society
Eric Becker, chief executive officer, Texas Orthopedic Hospital
Becker joined TOH in February 2016. Most recently, he served as Chief Operating Officer at Research Medical Center (RMC), a 590-bed acute-care hospital and one of the busiest hospitals in the Greater Kansas City metropolitan area. During his tenure at RMC, Becker was instrumental in several growth strategies such as expanding outreach programs, increasing traffic in the emergency department and developing new service lines. He also has a proven track record improving patient satisfaction at several facilities during his 14 year career with HCA.
Becker earned his Bachelor of Business Administration at Roanoke College in Salem, Virginia, and earned his Master of Health Care Administration at Virginia Commonwealth University, Medical College of Virginia Campus in Richmond, Virginia.
In his free time, he enjoys sports and other fitness activities, as well as spending time with his wife, Deana, and their five children.
John Mier, chief nursing officer, Texas Orthopedic Hospital
John Mier was named Chief Nursing Officer for Texas Orthopedic Hospital in 2018. As an experienced nursing leader, Mier is skilled in implementing standards of nursing care to improve patient safety, quality, physician relations and customer service.
Before joining Texas Orthopedic Hospital, he previously served as the assistant chief nursing officer at Bayshore Medical Center. Prior to that, Mier served as the director of nursing at Conroe Regional Medical Center for seven years. He also was the director of nursing at Houston Northwest Medical Center for five years, and a registered nurse for another five years.
Mier earned an MBA from the University of Phoenix in 2015, where he was a member of the Delta Mu Delta honor society. He also earned a Bachelor of Science degree in nursing from Lamar University in 1999. He is a member of the Texas Nurses Association and American Nurse Association.
Matt Musil
Currently a weekend sports anchor and reporter for KHOU-TV, Musil has served in several different capacities since starting at Channel 11 in 1980. The Kansas native played football, baseball, basketball, and ran track in high school. He went on to play baseball up to the semi-professional level. Musil graduated from Kansas State University with a major in Radio-TV Journalism and a minor in coaching.
Musil is very active in the Houston community, regularly appearing at civic organizations, schools and churches as a guest speaker. He also participates in a variety of charitable events, including the Matt Musil Celebrity Golf Classic, and annual basketball clinics for Houston youth.
Gary McGuire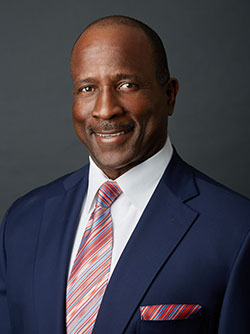 Gary McGuire has been in the insurance, financial planning and retirement industry for more than 20 years. He has worked with Metropolitan Life Insurance, Morgan Stanley Dean Witter, Investors Financial Group, Raymond James Financial Services, InterSecurties, Inc., Allstate Financial Services, and Transamerica Financial Advisors.
McGuire attended the University of Houston on an athletic football scholarship from 1983-1987, where he studied kinesiology with a minor in business.
Stacey Porter
Stacey Porter is a Native Houstonian and the Co-Founder of the Stacey & Bo Porter SELF Foundation which is a non-profit organization that is committed to providing students from ages 12 to 18 who attend inner-city schools with a nurturing environment to promote academic achievement through their before and after-school mentorship sports education programs. Through these interactive programs some of the issues that Stacey is instrumental in helping students to address are bullying, peer pressure, self-esteem, good mental and physical health, suicide, teen pregnancy, drug addiction and gang violence.