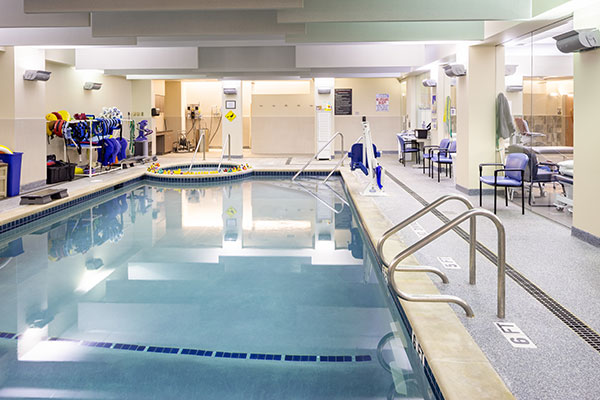 Aquatic therapy is a valuable alternative for patients who find land-based therapies difficult or painful, and may also be used to complement traditional therapies. Working in the water can help speed the healing process,as it reduces stress placed on joints and injured soft tissues during rehabilitation exercises.
Our Aquatic Rehabilitation Program
The rehabilitation center at Texas Orthopedic Hospital is home to an on-site, specially-designed, multi-depth therapeutic pool. Our certified aquatic therapists perform a wide range of manual treatments in the water, utilizing hydrotherapy equipment designed to facilitate recovery while easing pressure on joints and muscles.
The benefits of aquatic therapy include:
Buoyancy, which reduces joint pain and eases movement of arms and legs
Sensory input as water gently stimulates the entire body
Resistance where light turbulence generated by the patient builds strength, increases endurance and improves balance
Compression as water decreases swelling by naturally compressing arms and legs
Our certified aquatic therapists work to ensure that each person who attends an aquatic therapy session at Texas Orthopedic Hospital feels comfortable. If a patient does not have a wide range of movement, they will provide exercise modifications.
Bedside therapy for inpatients
Awards & Recognition
---
Patient Satisfaction
Top 5% in the Nation as measured by Hospital Consumer Assessment of Healthcare Providers and Systems (HCAHPS)
Centers for Medicare & Medicaid Services
Hospital Compare program five-star rating (2016-2017) in both quality and service
Healthgrades
Best Specialty

America's 100 Best Hospitals for Joint Replacement™ (2016-2017)

Patient Safety

Patient Safety Excellence Award™ (2013-2018)
Top 5% in the Nation for Patient Safety (2013-2017)
Top 10% in the Nation for Patient Safety (2013-2017)
Becker's Hospital Review
100 Hospitals with Great Orthopedic Programs
Modern Healthcare
"Top 100 Best Places to Work in Healthcare" (2012-2018)